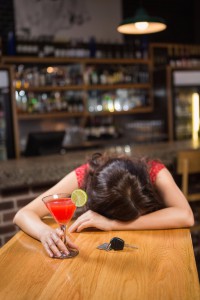 When a person is arrested for drinking and driving, it is obviously their fault for deciding to consume alcohol and then get behind the wheel of their car.
However, can a bar or restaurant ever be held partially responsible for allowing the person to purchase enough alcohol to become drunk and then drive home?
The easy answer is yes.
"Dram shop laws" apply to lawsuits that have occurred as a result of people drinking and driving after purchasing alcohol at a bar, restaurant or any business that sells alcohol. This means if you are involved in an auto accident and have proof that the drunk driver became intoxicated in a bar, you may be able to bring a lawsuit against the bar. Most states have a limit to how much a plaintiff can receive as compensation, which could come in as low as $250,000.
Dram Shop Cases exist in two ways: first party and third party.
First-Party Dram Shop Cases
First-party dram shop cases are when the plaintiff in the case is the one who bought the alcohol and caused an accident. These are the hardest to win because some states will not allow first-party cases. Moreover, even where applicable, first-party dram cases are difficult to prove because juries typically feel that the drunk driver is responsible for their actions. In addition, the drunk driver will be hard-pressed to prove that the bar owner should be responsible for the fact that the plaintiff chose to drive drunk.
The only exception to this rule is when a minor is able to purchase liquor and gets in an accident. In this instance, the bar can be held responsible for selling alcohol to a minor – even if they weren't aware of the minor's age.
Third-Party Dram Shop Cases
Third party cases are different because they are lawsuits filed by the party that was not drinking. For example, if you or a loved one are hit by a drunk driver, you might be able to file a claim against the bar or restaurant responsible for letting the negligent driver leave the premises in their intoxicated state.
Dram Shop Law Details
Dram shop laws typically work to clearly define the legal issues that arise with drunk driving cases. These legal issues include:
Identifying legal standards plaintiffs are required to prove
Any and all evidence associated with the case
Discerning the highest damage amount(s) that could be awarded
Dram Shop Case Standards
Third-party dram shop Cases are the easier of the two varieties to win. This is because the plaintiff only needs to prove the bar's negligence (i.e. that a bartender served a customer more alcohol after they were visibly drunk). Some states even allow a plaintiff to recoup more damages if there is sufficient proof the defendant acted recklessly. By comparison, a first-party dram shop case plaintiff typically doesn't have the chance to prove another party acted recklessly.
 Dram Shop Case Evidence
Below is a list of specific pieces of evidence you'd need in order to prove a bar's responsibility and/or liability:
That the bar served alcohol without checking identification.
That a bartender/server could see a patron was intoxicated and still served them.
That an establishment served drinks after the posted closing time.
That a bar provided enough alcohol for a patron to become intoxicated.
Bars, restaurants or other drinking establishments with the following policies in place can show that they are not responsible for a driver choosing to get behind the wheel after becoming intoxicated:
Encouraging (requiring) servers to attend a course about proper alcohol serving guidelines
Encouraging customers to limit their alcohol consumption
Having access to non-alcoholic alternatives
Encouraging patrons who drink too much to use a taxi service
If you've been involved in an accident that included a drunk driver, you'll need to get in touch with a drunk driving accident attorney immediately.