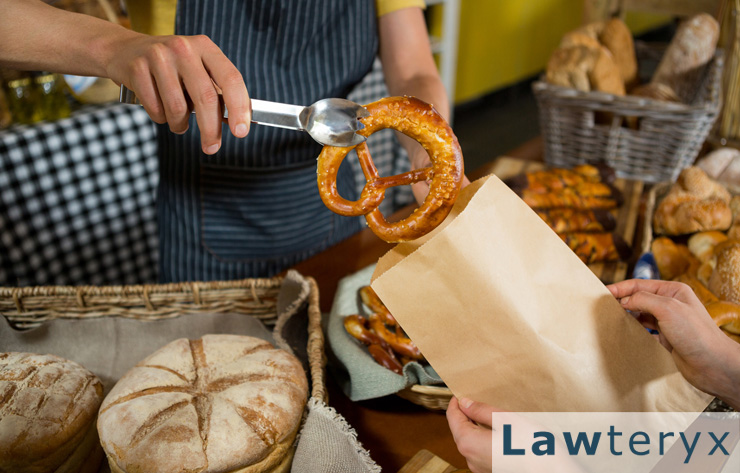 When was the last time you committed a crime?
The answer might surprise you.
There are currently so many laws tucked away in state codes that it would be nearly impossible to count them all. Additionally, many of these laws are strange, outdated, or referencing behaviors or circumstances that are no longer commonplace today.
Long story short, you're probably breaking the law much more than you realize. Take a look at your state and see! Below is our pick of the top weirdest laws in each state.
Alabama
It's illegal to walk down the street with an ice cream cone in your pocket. This is because horse thieves used to lure the animals away with the treat.
Alaska
It's illegal to wake up a sleeping bear to take a picture of it. However, it is legal to shoot it.
Arizona
If you have a pet donkey, it's not allowed to sleep in your bathtub. That was forbidden through a 1924 court case where a man's donkey floated away in a bathtub during a flood. The creature was recovered, thankfully, and the town demanded a new law to protect other future donkeys.
Arkansas
It's illegal to mispronounce the state name. Per the official state code, it's pronounced ARK-an-saw.
California
Pack away those cowboy boots! You're only allowed to wear them if you own at least 2 cows. This is an official law in the city of Blythe, though it's commonly misreported as a law for all of the Golden State.
Colorado
The city of Aspen expressly forbids all types of fun, including catapults, slingshots, blowguns, flaming arrows and snowball fights. This is because Aspen is a ski resort destination with a lot of tourism.
Connecticut
It's illegal to sell a pickle that doesn't bounce. This law came into existence because of some nefarious pickle merchants selling dill that was "unfit for human consumption." The FDA got involved, and the rest is history.
Delaware
On Halloween, it's illegal for kids to trick-or-treat before 6 p.m. or after 8 p.m. The exception is if Halloween falls on a weekend.
Florida
Unmarried women are expressly prohibited from parachuting on Sundays. Florida has a lot of weird laws, but this one might just be the weirdest. Presumably, it dates back to religious ordinances about acceptable behavior on holy days.
Georgia
If you're taking your pet giraffe for a walk, don't tie him to a streetlamp or telephone pole. That's illegal.
Hawaii
It's illegal to put coins in your ears. This one dates back to the Kingdom of Hawaii joining the U.S. as a state. Its currency was abolished, but people tried to preserve it by hiding coins in their ears.
Idaho
Leave your red-tipped cane at home. Residents and visitors are both forbidden from using red-tipped canes in public.
Illinois
Unmarried men should be addressed as "master," not "mister," by members of the female population. Unsurprisingly, this law is never enforced.
Indiana
An old and obscure law demands that black cats wear bell collars on Friday the 13th. This is to alleviate "mental strain" among the populace. Black cats, of course, are very superstitious critters.
Iowa
It's illegal for a man with a mustache to kiss a woman in public. Shave first, Romeo.
Kansas
In Kansas, George Washington is a bit like Voldemort. All mentions of Washington's name must be followed with "blessed be his name," or you could face a fine of 50 cents.
Kentucky
If you'd like to practice law or become a civil servant in Kentucky, you must first swear under oath that you've never participated in a duel with a deadly weapon. Failure to disclose this can result in your termination.
Louisiana
It's illegal for mourners to eat more than 3 sandwiches at a wake. This is one of those "strange but true" laws that dates back decades but is still technically on the books today.
Maine
You're not allowed to step out of a plane mid-flight. However, you can still go parachuting or skydiving. It's unclear how the law reconciles these 2 facts.
Maryland
It's illegal to swear or curse while operating a motor vehicle. This is part of a "noise control" law, and it can be a misdemeanor worth $100 when enforced.
Massachusetts
It's unlawful to dance to the national anthem. This decree dates all the way back to 1917. If you ever feel like grooving to the Star Spangled Banner, don't do it in Massachusetts.
Michigan
In the city of Rochester, all bathing suits must be inspected by a police officer. These types of ordinances weren't uncommon in the days of modesty laws; some police officers even carried measuring tapes to the beach. Today, of course, these laws are never enforced anymore.
Minnesota
No child under the age of 12 may talk on the phone. The exception is if they're supervised by a parent.
Mississippi
It's illegal to restrict the sizes of Big Gulps. This law came into existence after a mayor tried to restrict soft drink sizes sold in convenience stores. The governor wasn't having it.
Missouri
Unmarried women aren't allowed to live together in groups of 4 or more. It's an anti-prostitution law.
Montana
Montana has a number of obscure laws related to outdoor activities. One is a ban on playing "folf," or Frisbee golf, anywhere other than a designated course. It's also considered an offense to leave balls lying around in public parks.
Nebraska
It's expressly forbidden for children to burp during church. The parent can technically be placed under arrest for the offense.
Nevada
Despite its reputation as Sin City, Las Vegas has many bizarre laws, including a law against pawning your dentures for cash.
New Hampshire
You aren't allowed to gather seaweed at night. Presumably, it's fine during the day. There are also many laws about vendors and what they can and can't sell, especially as "unauthorized" vendors.
New Jersey
It's illegal to buy ice cream after 6 p.m. unless you have a note from your doctor.
New Mexico
In the city of Las Cruces, New Mexico, you're forbidden from carrying a lunchbox down Main Street.
New York
According to Section 10-114 of the New York City Code, it's illegal to perform a ballet or puppet show in front of the windows of your home. You could spend 30 days in jail for the offense.
North Carolina
Before receiving her hand in marriage, bachelors in Raleigh must be inspected by their bride's barnyard animals. This is to ensure a harmonious farm life together.
North Dakota
It's illegal to fall asleep while still wearing shoes. No one knows why this law exists, just that it does.
Ohio
You are not allowed to walk backward while eating a doughnut on a city street. It's considered a choking hazard, and you're expressly forbidden from encouraging or inciting it in a public space.
Oklahoma
Hypnotists, take note. It's against the law to display a hypnotized person in a window.
Oregon
Any individuals with a "bad reputation" are prohibited from distributing liquor and malt beverages. It's unclear how the law defines "bad reputation," but you've now been forewarned.
Pennsylvania
In Philadelphia, it's considered unlawful to put pretzels in bags. This is one of those laws that people unknowingly break every day, especially in Philly. The city is known for its soft pretzels!
Rhode Island
Rhode Island has strong laws concerning "false personification." For example, it's a crime to impersonate an auctioneer. The decree dates back to a time when fraudsters could make illegitimate sales at public auctions.
South Carolina
An antiquated law forbids South Carolina residents from working on Sundays. Before you get excited, however, it also forbids dancing and other fun activities on Sundays either.
South Dakota
It's illegal to intimate pacifists or other anti-war individuals. This includes challenging them to arm-wrestling matches.
Tennessee
In the city of Memphis, it's illegal for women to drive without a man standing or running in front of the car with a red flag to warn other motorists. No, we're not kidding. Thankfully, this law is never enforced.
Texas
Texas is no stranger to strange laws. Here's one of the weirdest: It's illegal to walk around barefoot without a permit.
Utah
You aren't allowed to fish from horseback while in Utah. It's also illegal in Colorado and Washington. In Tennessee, it's extra illegal to lasso a fish while on horseback.
Vermont
A woman who wants to wear false teeth must first obtain permission from her husband. Otherwise, it's a crime.
Virginia
Be careful of how you flirt in the city of Newport. It's considered unlawful to tickle a girl with a feather duster under her chin.
Washington
Thanks to the Sasquatch Protection and Refuge Area, which classifies Bigfoot as an endangered species, it's a crime to hunt for Bigfoot. It could cost potential poachers a $1,000 fine.
West Virginia
If you're an exotic pet owner, beware. You aren't allowed to walk lions, leopards or tigers, not even if they're on a leash.
Wisconsin
It's illegal to sell subpar cheese in the Cheese State. All cheese and dairy products are required by law to be "pleasing," "highly pleasing," or "aesthetically pleasing."
Wyoming
It's unlawful to purchase certain materials from an intoxicated person, including rags, metals, papers and rubber. Presumably, other materials are fine.

While many of these laws may seem amusing or even ridiculous, they serve as a reminder that our legal system can be both fascinating and perplexing. Nonetheless, it's important to remember that these laws, no matter how bizarre they may seem, are still in effect and can technically result in consequences for those who violate them. 
So, it's always advisable to do some research and ensure that you're aware of the local laws and regulations when traveling or moving to a new area.