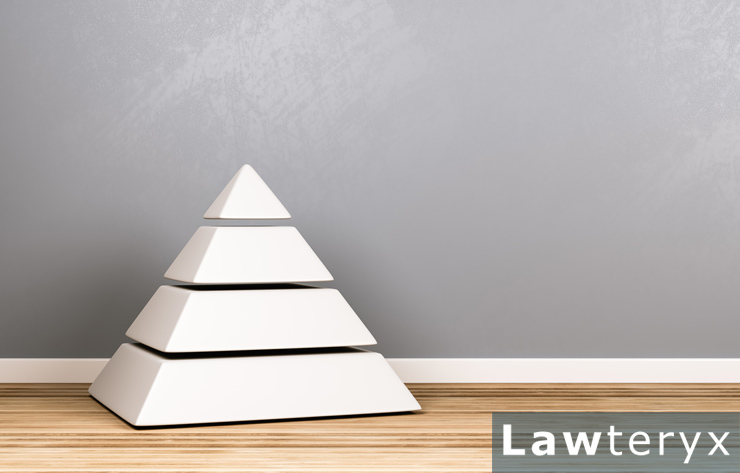 The economic lockdown that has accompanied the COVID-19 pandemic is having any number of unexpected consequences. One of them is a rise in so-called "pyramid schemes", where people hand over their money in the hopes of a big return on investment. The pyramid scheme is notorious for grand illusions and false promises, and those can be particularly attractive to those without work and with little hope of obtaining new employment.
It's of no small importance that these schemes are also against the law. In light of the current economic landscape, it's worth asking why pyramid schemes are illegal. To understand that, let's compare the pyramid scheme to its first cousins—multi-level marketing businesses on one end of the spectrum and Ponzi schemes on the other.
Multi-level marketing systems (MLMs) are a legitimate business distribution model. The MLM has key resemblances to a pyramid scheme. Both are built on the premise of having your own business selling someone else's product or service. Both are built on the promise of enhanced earnings through recruiting new members to work underneath you and gaining a share of their sales.
There is one very important distinction: MLMs make selling a valid product or service the primary way a person earns money. Amway, a company that sells health and beauty products, has been doing MLM work as an important part of their marketing for over 50 years. People differ on whether it's a good opportunity or a waste of time, but this much is certain—the MLM model used by Amway and other similar companiesis perfectly legal.
By contrast, a pyramid scheme puts the profit focus squarely on the recruitment of new members. There will be a product or service—most often a service that requires no production costs—but that is merely a façade to provide cover for their pyramid. The way you make money in a pyramid scheme is by recruiting new members, getting them to pay a hefty initiation fee and then receiving a share of that fee.
The third form of marketing is the Ponzi scheme, which is illegal and can trespass on a wide variety of federal laws. A Ponzi scheme is disguised as a legitimate investment opportunity. You give your money to your "portfolio manager." You're under the assumption that the money is being invested in the stock market. When you decide to withdraw funds, it's not actually stock dividends you receive. You're simply compensated with the money that came in from other unsuspecting participants.
The Ponzi scheme differs from the pyramid in its complete lack of subtlety. The pyramid is an attempt—however unethical—to creatively look like a legitimate MLM opportunity. The Ponzi scheme is simply a masquerade and its practitioners are usually guilty of mail fraud and tax evasion among other criminal violations.
Having placed the pyramid scheme in its proper context, let's move to the question of why it's illegal and how you—or legal authorities—can tell the difference between a pyramid and MLM.
The simplest reason for its illegality is this—there is no upside to the community at large for its success. Multi-level marketing has its critics who believe the chances of making a profit are too slim to justify the investment of time. Our purpose is not to take sides in that debate. But if an MLM succeeds, it's because the person has provided products and services to a market that was genuinely interested in them.
Contrast that with a pyramid scheme. Even if it "works" for you, that simply means you were able to recruit more and more people to hand over a large upfront fee and they turned around and did the same. There is no end result that involves a targeted market being given a product or service they want. Furthermore, as the Federal Trade Commission points out, a pyramid scheme inevitably runs out of people. The system collapses having never delivered a benefit to society as a whole.
Those wondering if the business opportunity in front of them is a valid MLM or an illegal pyramid scheme can look at several key indicators. The upfront investment cost is one, along with understanding what the money goes for.
If the funds are to purchase the products you're selling—and the company agrees to buy back the unsold inventory in a reasonable time period—then the opportunity may be legitimate. If the upfront cost is just an abnormally large fee for no discernible purpose, that's not a good sign.
You can also observe how the person recruiting you talks about moneymaking opportunities. If the focus is on moving product, you're on safe ground. If the focus is all the new members you can recruit, then consider that a red flag. An MLM sees recruitment as a byproduct of your own successful sales efforts. A pyramid scheme opens with recruitment as the principal goal.
Recruiting someone into a pyramid scheme is a felony. You can be fined $5,000 and get up to 4 years of prison time. Telling the court you simply read the information that was in the company brochure is not a valid defense. So proceed carefully, with eyes wide open.