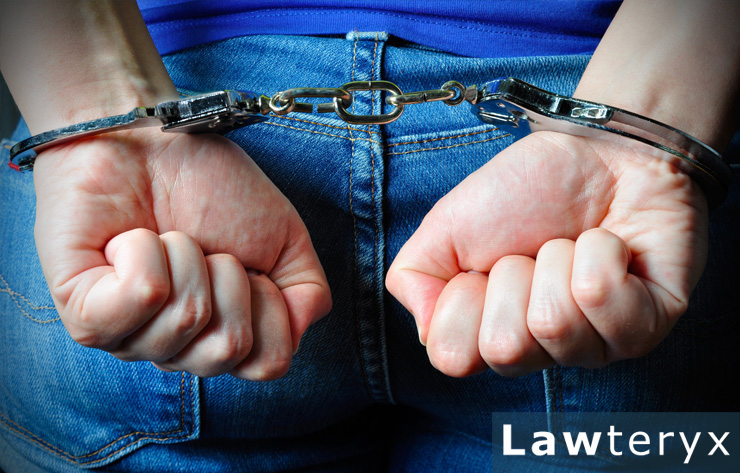 While laws differ in every state, generally, most states consider those under the age of 8 incapable of fully understanding right from wrong. Children over the age of 8 can be arrested, but those under 12 likely won't be sent to jail unless they commit a serious offense such as murder, rape or injuring an animal or human with a firearm.
After 12, things change. The government believes that minors age 12 and older are capable of discerning between right and wrong. While only the most serious offenses will land a 12-year-old in jail, children who commit crimes will face consequences for their actions.
Can kids go to jail?
There are currently 13 U.S. states that allow children to be tried as adults and sentenced to jail. These states, which have no minimum age for being tried as an adult, include:
Alaska
Delaware
Florida
Hawaii
Idaho
Maine
Maryland
Michigan
Pennsylvania
Rhode Island
South Carolina
Tennessee
West Virginia
Let's look at some specific crimes and the jail time associated with them for minors.
Minors facing assault charges
The length of time a minor will go to jail for an assault charge varies greatly—from no jail time at all to life in prison. It all depends on the type of assault committed. There are 3 types of assault: common, criminal and aggravated.
Common assault occurs when a defendant offends or threatens someone. In other words, 1 person has the intention of causing physical harm to another, but no assault has occurred. Examples of common assault include throwing a punch without connecting, throwing objects or failing an attempted kick.
Criminal assault occurs when a common assault results in physical contact and causes an injury.
Aggravated assault occurs when 1 person intentionally harms another person without regard for human life, resulting in serious injury. Typically a weapon is involved.
What's a juvenile detention center?
Juvenile detention centers don't operate like regular prisons. However, they are highly structured and typically follow strict schedules. Rather than being housed in cells, some facilities provide rooms that the juvenile can customize as long as they don't include offensive material. In other states, juveniles are housed in cells just like an adult jail.
While juveniles carry out their sentence, they are expected to attend classes and do homework.
Just as in adult jails, fights are all too common in juvenile detention centers. Fortunately, security guards are usually able to break up fights quicker since the guards are typically bigger than the offenders.
Every state has the means to provide age-appropriate detention centers; however, many states still opt to house juvenile offenders with adult inmates.
U.S. juvenile incarceration statistics:
As of 2019, there were over 48,000 juveniles in the jail system
The number of juveniles in confinement has dropped 60 percent since 2000 (in 2000, there were 108,802 in confinement)
69 percent of juveniles in confinement are male
42 percent of boys and 35 percent of girls in confinement are Black
3 percent of girls and 1.5 percent of boys in confinement are American Indian
92 percent of juveniles in confinement are in adult prisons or juvenile facilities that resemble adult prisons
Since 2000, approximately 1,300 juvenile facilities have closed
90 percent of juveniles in the jail system have a history of trauma
What does juvenile justice look like around the world?
In 1989, the United Nations (UN) adopted the Convention on the Rights of the Child. The Convention stands as a treaty that prohibits countries from handing down life without parole sentences to juveniles. Only 2 countries that are part of the UN chose not to ratify the Convention.
As previously stated, in the U.S., the age of criminal responsibility is 8 years old, and 13 states have no minimum age for being tried as an adult. Around the world, most other countries focus on educating children who have committed crimes.
Below is a list of the ages that 30 countries around the world (including the U.S.) consider the age of responsibility. The majority of countries don't consider children under 10 mature enough to be jailed for crimes other than murder.
Argentina-16
Australia-10
Belgium-18
Bolivia-social responsibility 12, criminal responsibility 16
Brazil-12
Canada-12
Chile-14
China-14
Costa Rica-12
Egypt-15
England and Wales-10
Germany-14
India-7
Ireland-12
Israel-12
Italy-14
Japan-14
Malaysia-10
Maldives-10
Mexico-10
Netherlands-12; For serious crimes, children 16 and older can be tried as adults
New Zealand-13, except in cases of murder and manslaughter where it's 10
Pakistan-7
Peru-12
Saudi Arabia-12
Singapore-7
South Africa-10
Sri Lanka-8
Sweden-15
UAE-7
United States-8