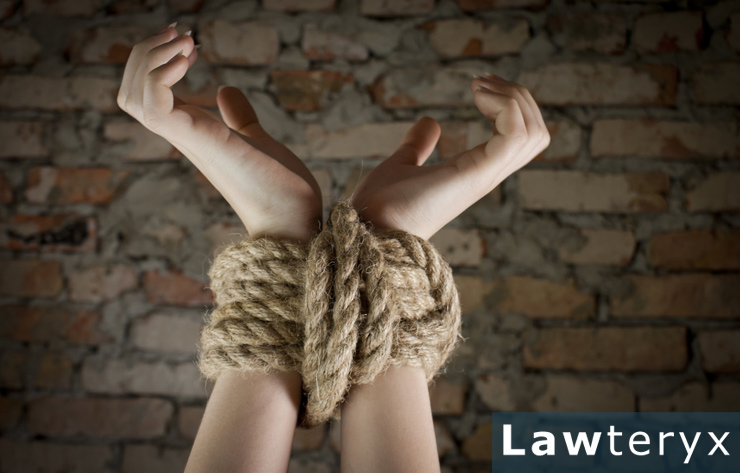 The crime of human trafficking often slips under the public radar, but the recent arrest of Ghislaine Maxwell may change all that. Maxwell was the lover and accomplice of Jeffrey Epstein, the deceased hedge fund manager alleged to have used underage girls as sex slaves. The Epstein scandal threatens to engulf everyone from Prince Andrew to Bill Clinton to former Cabinet officials in the Trump Administration.
Epstein's death in federal prison last August was mysterious and has led to a lot of conspiracy theories with varying degrees of credibility. With Maxwell now in custody and awaiting trial, perhaps now is a good time to step back and look at exactly what is human trafficking? How extensive is it? The answers are not comforting.
Defining human trafficking
Congress passed the Trafficking Victims Protection Act of 2000 and has reauthorized that legislation several times in the ensuing 2 decades. While sex crimes draw media attention, trafficking also includes the "obtaining of a person for labor or services through the use of force, fraud or coercion for the purpose of subjection to involuntary servitude…"
Translation: Human trafficking is the modern-day form of slavery.
The evil practice covers everything from prostitution to taking on risky job offers or working in a private home, trapped and having no way out. It can include forced marriages and even organ removal.
Victims are commonly found working in industries like agriculture, hospitality, restaurants and domestic help. A business like a massage parlor that fronts for a prostitution ring is another common landing spot for those ensnared in trafficking's web. Overseas, this can be forced labor that produces consumer goods at low costs and undercuts honest companies on the open market.
Who are the victims?
Traffickers look to target people who are experiencing either economic or psychological vulnerability. The traffickers rely on methods ranging from fraud to coercion to lure their victims in. A person ensnared in a trafficking ring will often start by believing they have found a better life or a job that will provide for their family.
The goal of the modern-day slave-trader is to make the victim dependent on the trafficker for their very survival and thereby less likely to blow the whistle. Ongoing psychological manipulation is necessary for the trafficker, so as to inflict enough mental trauma on the victim that they will not ask for help, even in a public setting where it would be safe to do so.
Women are disproportionately victimized by trafficking rings. Over half of identified victims are adult women and 72 percent of those exploited in the sex trade are female. Adult men comprise 21 percent of the identified victim population and are often used in farm fields or on construction projects.  These same statistics show that nearly half of the victims never leave their home country. It all happens under the nose of their native land.
Human trafficking is a big business. It's estimated to turn a profit of $150 billion, with two-thirds of that coming from sex slavery.  Those figures are global. Within the United States, Homeland Security Investigations reported the following 2019 figures:
1,024 investigations
2,197 arrests
1,113 indictments
691 convictions
The data we have on file will still vastly understate the scope of the problem. Cases often go undetected. It's been estimated that the number of victims can range anywhere between 20 million and 40 million people.
The prison term for a conviction on human trafficking varies on a number of factors, not the least of which was the nature of the particular crime. The coercion of children into sexual slavery can bring a life sentence. Other facets of trafficking might result in a 20-year prison term. The length of the sentence will also depend on whether state or federal charges are filed, and which state has jurisdiction.
Is there anything I can do?
Most human trafficking crimes take place under our very noses, so there are modest steps the average citizen can take to stop this plague. Be aware of the indicators that you're looking at a victim. Is a person always in the company of someone they consistently defer to, even on basic matters like whom they talk with? Does a person appear as though they've been coached on how to respond to certain questions?
These are just a couple of warning signs. They don't necessarily mean you're looking at a victim, but they do mean that it's something to be aware of. If you find yourself in such a situation, the best thing to do is reach out for help. Contact either local authorities or an organization that works to combat human trafficking and tell them what you noticed.
Above all, be aware that human trafficking—modern-day slavery—is real and it is happening here.