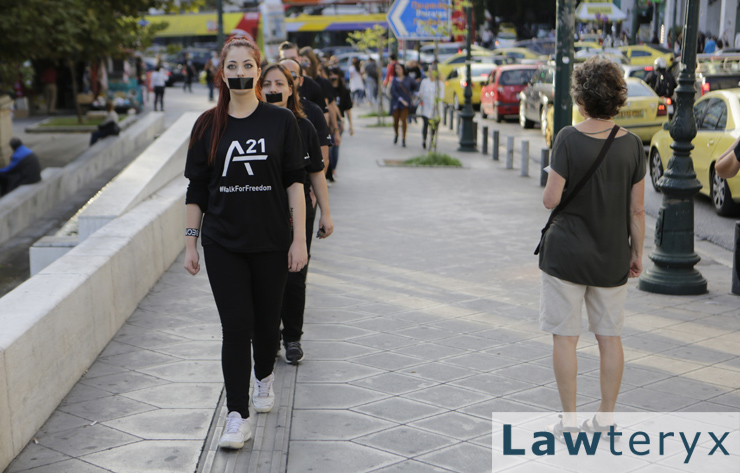 Human and sex trafficking are a major problem right here in the U.S.
Despite the fact that rates of prostitution and sex trafficking are commonly misreported to increase during major sporting events where large crowds of people from across the globe congregate in one area for a short time, that doesn't mean that human trafficking isn't occurring elsewhere.
According to Michael Hobbes, a writer for the HuffPost:
"There has never been any evidence that major sporting events are associated with a rise in human trafficking. Despite waves of ominous warnings every year, no city has demonstrated a rise in human trafficking before or after the big game."
Super Bowl LI was held in Houston, Texas on February 5, 2017, and Hobbes' statement rang true. The arrest records for prostitution and driving under the influence after the Super Bowl were low.
It's too early for statistics on Super Bowl LV in Tampa, Florida for February 2021; however, early reports indicate that Tampa police didn't report a larger-than-normal number of arrests for prostitution during the previous Super Bowl held in the city in 2009. In fact, they reported the normal number of arrests for the same time period. 
According to Blair Hopkins, the Deputy Director of the Sex Workers Outreach Project Behind Bars—a non-profit group that works to help sex workers who are or have been jailed for their profession—large sporting events simply cause more arrests. There isn't evidence that there is more trafficking.
However, even with the evidence given, there are groups that disagree.
A group focused on combatting child sex trafficking, Global Education Philanthropists, still asserts that the Super Bowl tops the list of situations where children are sold into the world of sex trafficking in the U.S. The reason behind this is that Super Bowl events are the perfect time to host elite parties.
Regardless of evidence that the Super Bowl hasn't led to an increase in sex trafficking, Tampa law enforcement officers still took advantage of the opportunity to run an undercover sting operation Super Bowl weekend.
Likewise, Florida's attorney general, Ashley Moody, issued a warning for human traffickers during the sporting event, fearing a repeat of the arrest of 47 individuals during the previous year's Super Bowl celebrations in Miami.
Other human and sex trafficking myths and misconceptions
The myth of the Super Bowl being a super trafficking event is just 1 of many misconceptions that surround sex trafficking in the U.S. Let's take a look at some of the other myths about sex trafficking:
Myth #2
Human trafficking doesn't exist in the U.S.; it's only a problem in other countries.
Reality
Human trafficking is prevalent around the globe. Not only does it occur in the United States, but it is also an issue in big cities and small towns alike. You can find victims of human trafficking in the suburbs and small rural towns all over the country.
Myth #3
The only victims of human trafficking are poor people trying to make money and those who are foreign-born.
Reality
You can find victims of human trafficking from every age, gender, nationality and race. You can also find victims from a range of socioeconomic groups.
Myth #4
Human trafficking only exists in terms of sex trafficking.
Reality
While it's true that sex trafficking exists, it's not the only way that humans are trafficked. Another type of human trafficking is forced labor. Like sex trafficking, forced labor exploits people as a means of making money. Well-known examples of instances where people can be forced to perform labor include:
Agriculture
Domestic service
Hotel work
Massage parlors
Myth #5
In order to be a victim of human trafficking, an individual must be forced or coerced into sex acts.
Reality
According to U.S. federal law, this is incorrect. Any minor (under the age of 18) who commits a commercial sex act is labeled as a human trafficking victim, even if they were not forced or coerced.
Myth #6
Human trafficking and human smuggling are the same.
Reality
This is a misnomer. Trafficking is the act of exploitation whereas smuggling requires that people be moved across a country's border in violation of immigration laws. Although the 2 concepts are different, human smuggling can become a case of human trafficking if those who are being smuggled are then forced into sex acts.
Myth #7
When given the chance, human trafficking victims will always seek help.
Reality
Sadly, this is also incorrect. Human trafficking is a hidden crime. Most victims are too afraid to reach out and seek help due to the fact that they're being forced into these acts by the threat of violence. Moreover, they may fear retribution from their trafficker in the event that the attempt fails as well as fearing for the lives of their families.
Given the nature of human and sex trafficking, it's easy for these situations to be swept under the rug. If you or a loved one have been a victim of human or sex trafficking, know that you are not alone. Please seek the assistance of a knowledgeable attorney with experience handling sex crimes.