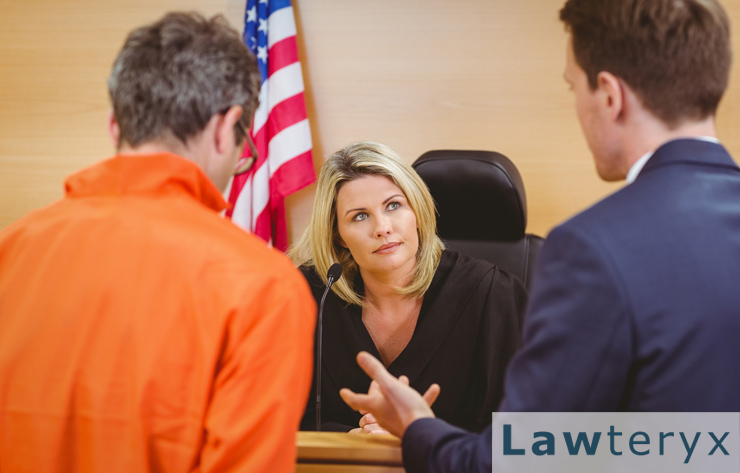 The most famous court cases in American history fall in the realm of criminal law. These cases have shaped our national culture and discourse, both captured and horrified the imagination and influenced the law itself.
Picking the 10 most famous criminal cases is naturally subject to opinion, but we are confident in saying the 10 below certainly deserve to be in the discussion.
O.J. Simpson
For this generation, it's hard to get bigger than the O.J. Simpson trial that took place in 1994-95. An iconic star in football, television and film, Simpson was accused of murdering his ex-wife Nicole and her friend Ronald Goldman. Simpson was represented by an all-star legal defense team that was led by Johnnie Cochran and included Alan Dershowitz.
In October 1995, a jury came back with an acquittal of Simpson, a verdict that divided the nation. The families of the victims came back with a civil suit for wrongful death. With a lower legal bar to hurdle to win this case, they were awarded over $33 million in damages.
In 2008, Simpson ended up going to prison on a robbery conviction.
SERIAL KILLERS
Ted Bundy
One of the most notorious serial killers of all time, Bundy murdered at least 36 women in the 1970s. Initially captured for his role in a kidnapping, Bundy was able to escape prison and resume killing. He was finally captured in Florida and received a death penalty sentence in 1980. There have been books, documentaries and films made about or inspired by Bundy's terrible spree. He was executed in 1989.
The Son of Sam
A long hot New York summer of 1977 got worse when David Berkowitz went on a shooting rampage. Berkowitz gave himself the name "Son of Sam" after his neighbor Sam Carr, whom Berkowitz believed was a demon ordering him to kill.
The Son of Sam murders were marked by letters left taunting the police. In the end, Berkowitz wasn't as clever as he thought—he used his own car and license plates in his crimes and a traffic ticket led police to him.
Charles Manson
The leader of a cult called the Manson Family, Charles was behind 9 murders in California in 1969. While it couldn't be proven at trial that Manson himself had directly killed the victims, he was convicted on conspiracy to commit murder charges and died in prison.
Ed Gein
A quiet area of central Wisconsin might not be where you would expect to find a serial killer, but that's where Ed Gein committed some of the bizarre and heinous crimes in history. Upon his capture, authorities found body parts of victims, as well as corpses dug up from a local cemetery, in Gein's house.
Gein was found to be legally insane and unfit to stand trial; however, he lived out his days in a mental health facility. Gein is believed to be the inspiration for a number of characters in popular culture, including Buffalo Bill in The Silence of the Lambs.
POLITICAL TRIALS
Watergate
As crimes go, Watergate wasn't the crime of the century—a burglary and wiretapping at the democratic party headquarters in 1972. It might have quickly faded from the scene until it was discovered that President Richard Nixon sought to cover up the break-in.
This started a chain of events that led to his impeachment and eventual resignation from the presidency in August 1974. To this day, scandals in America often have a "gate" attached to their description and the phrase "the cover-up was worse than the crime" is a part of the Watergate legacy.
The Tweed Ring
William Tweed was the most powerful political figure in the New York City of the late 19th century, able to make and break candidates. His Tammany Hall organization was renowned for both its power and its corruption.
Embezzlement ultimately put him behind bars, when he was convicted of stealing from the taxpayers. The $25 million Tweed was convicted of embezzling would be valued at over $700 million today.
Sacco & Vanzetti
Officially, this was a trial regarding the killing of a guard during a robbery attempt but it turned into a political trial. Nicola Sacco and Bartolomeo Vanzetti were both indicted based on eyewitness testimony, but both vehemently insisted they were innocent.
Both were members of an anarchist movement and much of the prosecution's questioning at trial revolved around their political affiliation rather than the crime itself.
MOB TRIALS
The Mafia Commission
In a trial that took place over 1985 and 1986, future New York mayor Rudy Giuliani took on the most powerful mob bosses in the United States and beat them. The heads of the Five Families were all convicted, as were 6 other mob figures, for extortion, labor racketeering and murder.
Whitey Bulger
The most recent addition to our list, James "Whitey" Bulger was a violent South Boston mobster who secretly worked with the FBI as an informant, all while he ran the drug rackets out of "Southie." Bulger later went on the run before being captured and brought to trial in 2012.
He was convicted on 31 counts of racketeering and murder. After his conviction, Bulger himself was murdered in prison.