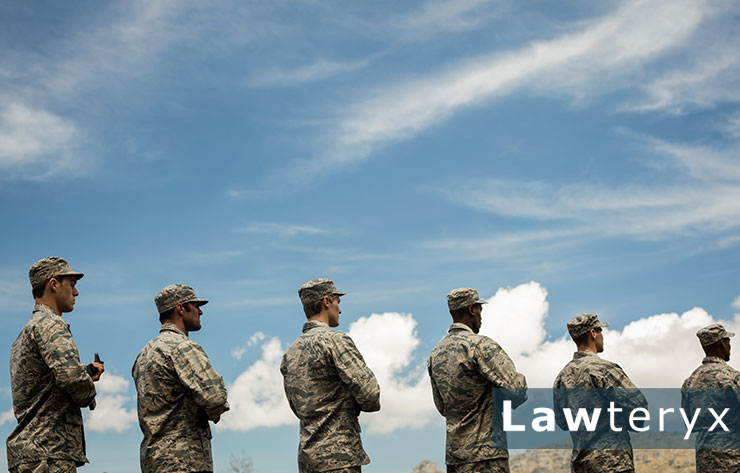 What would happen if you get injured during martial law?
What is martial law and how does it pertain to our COVID-19 pandemic?
What would happen if you were injured during martial law?
Who can declare martial law?
These are questions that have been raised in recent days and rest assured that we'll address these concerns below. But understand that if and when martial law is declared, it is done so to protect you and your family.
First, let's be clear about one common misconception:
Stay-at-home orders and government-issued shutdowns are NOT a declaration of martial law.
This martial law rumor must be dispelled. While President Trump approved mobilizing National Guard troops in March 2020, the move to do so was to make their use available to state governors who needed assistance in delivering food, supporting drive-through testing sites and creating plans to coordinate efforts should the situation worsen. Each state was allowed to maintain control over their National Guard forces to support the needs of their state. At no point was the military expected or asked to enforce shelter-in-place or quarantine orders.
What is martial law?
Martial law is when the military takes control of public or civil institutions. In that capacity, the military becomes the police, judge, jury and, if needed, executioner. But, despite this general definition of martial law, the application of the concept itself has no legal definition.
Martial Law is closely tied to habeas corpus, which is the right of every American to a hearing or trial upon their lawful imprisonment. This legal concept grants the judiciary the power to oversee, or supervise, law enforcement. The right of habeas corpus has only been suspended once—in 1863 during the American Civil War.
Some people have questioned whether or not COVID-19 shutdown orders might be a form of "medical martial law" that our country has never faced before. While most experts agree that this was not the case (for reasons we've discussed above), it's worth noting that most of these individuals sought to comply with orders while still seeking to retain some level of personal autonomy or independence.
It is not constructive to mock those who question the suspension of personal liberties due to public health. Perhaps by acknowledging that both perspectives are valid is a good first step towards understanding these points of view.
History of martial law in the U.S.
Throughout American history, there have been many times when the military has been called in to assist police, such as the 1992 L.A. riots or conducting search and rescue along the Gulf Coast after Hurricane Katrina. But these instances were not under declared "martial law."
Martial law has been declared at various points in American history for times when a city, region or state has been placed under the control of the military. It has sometimes been declared following a natural disaster, such as the Great Chicago Fire in 1871 or San Francisco earthquake of 1906, or in the aftermath of a battle, such as during the Illinois Mormon War.
Martial law was also declared in the Territory of Hawaii for most of the duration of World War II (1941-1944). It has historically also been declared when mob violence threatens the civilian populace, such as the 1934 West Coast waterfront strike or Cambridge riot of 1963.
Federal or state officials have declared martial law at least 68 times since the birth of our nation, or on average about once every 4 years. The reasons why martial law was declared breaks down as follows:
29 times due to labor disputes
11 times for civil unrest or riots
7 times for insurrection or domestic war
4 times for natural disasters
2 times for invasion or war
15 times for "other" reasons
Who can declare martial law?
U.S. law surrounding the use of martial law is often poorly understood by the general public, and it doesn't help that the Constitution doesn't mention martial law and no Act of Congress defines it. Even the Supreme Court has only weighed in on this topic a handful of times, and the most recent instance was more than 75 years ago.
All the way up to the top, the President of the United States has the authority to deploy troops to assist local civilian law enforcement, and specific civilian posts (such as a state governor) have the authority to ask for military assistance in the event of rampant chaos.
What would happen if martial law was declared?
As our country grappled with the stay-at-home orders issued by governors in the wake of the COVID-19 pandemic, and rumors floated around of martial law being discussed by upper echelon members of the government, many wondered what everyday life would look like under martial law.
If martial law were to be declared, citizens would most likely see the military performing tasks such as policing city streets, preventing rioting and looting, issuing medicine, food or other supplies, dispersing large crowds, offering medical assistance to sick or injured civilians and ensuring essential businesses (such as pharmacies and grocery stores) are still open and operating.
But what would happen if you were injured in a way somehow connected to the declaration of martial law?
If, during a martial law situation, you were to be injured or your property is damaged, the military may try to settle with you as cheaply as possible—at best—by pulling at your patriotic heartstrings. In most instances, you deserve much more than what the military initially offers in these situations, so it's important that you work with a knowledgeable attorney who can fairly represent your case before the court or military council.
Can you sue the military?
A person who is injured or suffers property damage as a result of the military (or those employed by the military) may be able to sue the U.S. military. Even under martial law, the military is responsible for the actions of its members and must reasonably prevent them from acting recklessly or in a neglectful manner.
The military is tasked with protecting American citizens. If they fail in that task, citizens are often entitled to financial compensation. In our experience, under most circumstances, almost anyone can sue the military, barring themselves being a member of the military at the time of the injury.
If you are a dependent of a military member, a civilian employee, retiree or simply a civilian who suffers an injury or property damage due to the military, you may be eligible to sue.
Lawsuits against the military are not uncommon.
In fact, the federal government has created a specific process to file a claim. Your best bet for a high-dollar payout is to have an experienced attorney prepare the documents and navigate your case through this complicated system. If, after this process, the monetary settlement is insufficient, our attorneys can look into pursuing a claim in federal court.
Timing with regards to suing the military is also critical. In most cases and in most states, you have less than 2 years from the time of the incident to file a claim against the military.
In our experience, judgments and settlement amounts for military negligence can range from just a few thousand dollars for small accidents with only minor, temporary injuries, to hundreds of thousands of dollars (or more) if catastrophic bodily injury or extensive property damage occurred. On top of pursuing the military, you may be eligible for compensation from any insurance companies that handle your auto or homeowner's insurance policy.
Why is the military most commonly sued?
You may wonder what types of lawsuits the U.S. military faces on a regular basis. Here are some examples of common types of suits filed against various branches of the military:
Destruction or damage of property during military operations
Unlawful use of force by soldiers or MPs (military police)
Auto or truck crashes with military convoy vehicles
Civil rights violations at the hands of soldiers
Destruction or damage of property by off-duty military members
Civilian slip and fall injuries while visiting the base PX or commissary
If you or a loved one has suffered an injury or personal property damage at the hands of the military, consult with a knowledgeable personal injury attorney today.