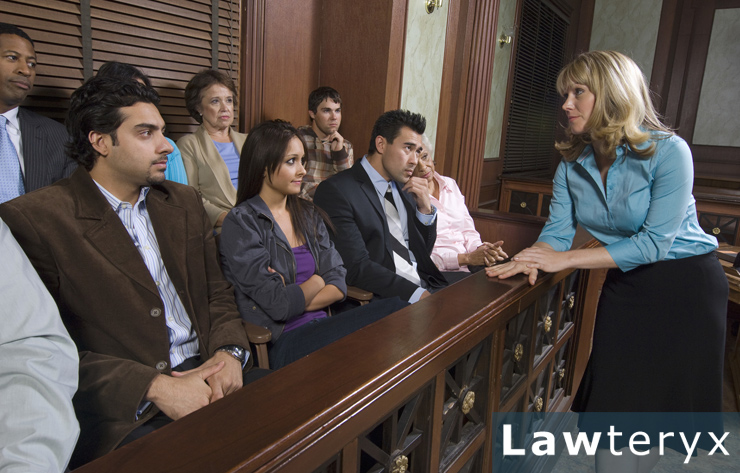 We've all watched the great legal dramas on television and movies and probably wondered how much of that is real and how much is Hollywood taking a little creative license. We're also probably grateful we don't have to find out in person—who wants to be on trial in a criminal case?
While most of the law is not practiced in a courtroom and we may never be in that position, let's face it: we might be one day. Knowing how to win a jury trial is an art all its own.
Know the law
A defense attorney has any number of roles—they'll have to be an actor, a psychologist and a friend throughout the trial. Before getting into that, don't overlook the obvious—they also have to be a lawyer and that means having real knowledge of the applicable law and the details of the case.
Being organized is an absolute necessity, from exhibit notebooks to witness outlines. A trial, like any significant event in life, will not go the way you plan it at the outset, but having an organized plan will make it easier to react from a position of strength.
The pretrial conference is where a defense lawyer starts demonstrating their competence. By raising good items for discussion and not bothering with superfluous objections, the lawyer can win credibility with the judge. That credibility will likely be noticed by jurors as the trial itself unfolds.
Hollywood's portrayal of lawyers often emphasizes their fiery speeches or their fast-footed repartee with a witness, but the simple act of listening is often far more valuable.
Let's say there was a piece of evidence that you wanted to be included in the trial, but the judge ruled in favor of the prosecution's motion to suppress. During the trial, an opposing witness makes reference to the issue. Now the door is open. If you're listening carefully, you're in a position to ask the judge to reconsider. No drama, no fireworks, just simply paying attention to what's being said could make or break your case.
Be a psychologist
As the lawyer for the defense, you have an important point in your favor—you don't have to persuade the jury that your client is innocent. You need only to prove reasonable doubt of their guilt. That's the letter of the law.
Here's the problem:
If you emphasize the "reasonable doubt" part too much for the jury, it might come off as that you think your client is guilty. Jurors are actual human beings, not simply robots interpreting the law. If they think that you think the person is guilty, then they'll probably find the reasons to convince themselves.
Instead, play for the win. Insist that your client is innocent. Ask the jury to find them "innocent," even though no such legal definition actually exists. Make it clear by your words and actions that you believe this to be an unjust trial.
There are legal scholars who advise against this, saying it raises the bar for the defendant. On paper, that's true. But cases aren't won on paper; they're won in the hearts and minds of real people. Those 12 real people in the jury box are going to be told by the judge that your client gets the benefit of any reasonable doubt. Let the court remind the jury of that. You play for complete vindication and if what you "settle" for is reasonable doubt, that's fine—you won the case.
Know how to act
You might not have wanted to be in a dramatic production, but you and the opposing lawyer are the stars of the show now. Even more so than the defendant, you're the ones that will be on stage throughout the proceedings. That means you have to be a good actor.
The jury is watching you, even when opposing counsel is the one questioning a witness. They're going to see your facial expressions and your demeanor. They're going to see how you treat your staff.
The best actors in Hollywood know how to act in the background. How many times did you watch an iconic TV show like The Office and crack up over a facial expression somebody made in the background? Those "off-center stage" moments make a performance and you are very much on stage at trial.
Be kind
The jury members don't really want to be here. Be nice to them. If one of them coughs, see if they need a drink of water. Be nice to the clerk—that's the person the jurors will interact with the most and if the clerk likes (or doesn't like) you, that will rub off.
It's not as though a juror is going to openly say in deliberations that they're voting a certain way because of how they feel about the lawyer. But those feelings will impact how they perceive what you say. And if the case is close, their perception will impact what they see as reality. So while being kind to people should be a rule for all of us all of the time, it has some very practical benefits for a lawyer in a trial.