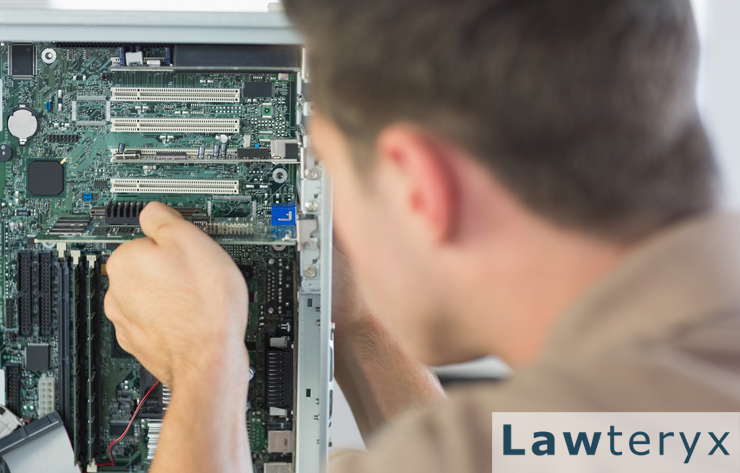 If you're involved in a criminal investigation, the data stored on your personal computer and/or cell phone can be used against you. However, the police are only allowed to obtain this data if they have a search warrant. Warrants for your computer can only be obtained under certain circumstances.
Generally speaking, your computer is protected under the 4th amendment and, like your home, it can't be searched without permission or a warrant. If you're arrested, the police have the right to confiscate your property and even search through it, all without obtaining a warrant.
However, in order to actually analyze the data they see, the police have to follow these guidelines:
They have to have a search warrant
You or someone of authority has to give them permission to view the data
They have a justifiable, emergency reason to search your data (Examples include preventing death or physical injury)
An exception to this would be if you were trying to flee the country. Even just going to the airport may give them reasonable cause.
In the instance that your computer is seized by the police and it's password-protected, according to the 5th amendment, you are only obligated to provide them with your passwords if they obtain a warrant.
Additionally, if the police believe that you could destroy evidence on your computer, they have the right to seize your computer without a warrant. However, they don't have the right to look through the contents until a warrant is obtained.
These rules extend to other data storage devices, such as:
Flash drives
Desktop computers
Other external hard drives
Tablets
Cell phones
As an example, Danny Shanahan, a cartoonist for the New Yorker, was arrested in December 2020 on charges of possessing child pornography. New York state police stated that the Village of Rhinebeck Police Department—where Shanahan resided—obtained a warrant to search his computer and obtained the incriminating evidence.
It's unclear why the Rhinebeck police began their investigation into Shanahan. If convicted, Shanahan could face a jail sentence of 4 years with 10 years of probation upon his release.
Shanahan is lucky he isn't facing child pornography charges. In Texas, possessing child pornography is a third-degree felony. One count of possession of child porn carries at least 2 years in prison (but up to 10 years) as well as a fine of up to $10,000.
Federal child pornography charges are even harsher. Being charged with the production of child porn at the federal level can carry a sentence of 15 to 30 years in a federal penitentiary for a first conviction. Those who have prior charges or produced sadistic/violent scenes could face life in prison.
If you're in a situation where the police have seized your laptop and are attempting to search it, you should contact a criminal defense attorney as soon as possible.